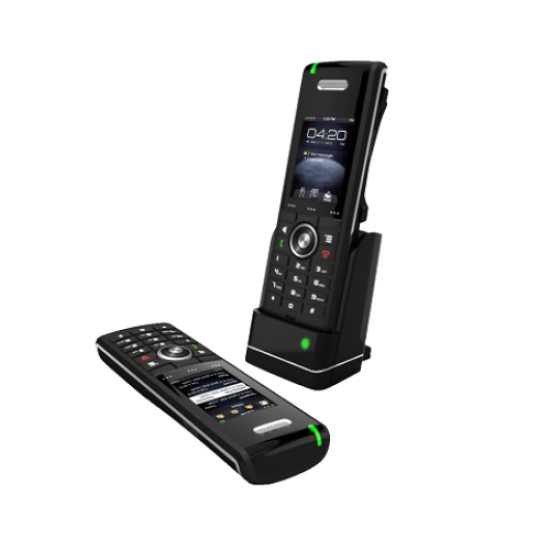 Verse iP Dect Handset
Verse IP Dect Handset for:
Verse IP DECT - SME VoIP The IP DECT – SME VoIP is a complete turnkey solution offering a scalability not seen before in this segment. This allows the system to grow from 1 to 40 bases and up to 200 users. Furthermore, Verse also provides two different high quality color screen CAT-iq handsets supporting the wideband audio functionality in the base station. The IP DECT – SME VoIP supports
Suitable User
Office with large DECT coverage requirements 
Nurseries
Manufacturing and retail floors
Car and Truck Rental Lots
Storage Facilities
Caravan Parks
Farms
Large Campus environments  
DECT standards in all major regions in the world. Seamless handover and repeater support are two major advantages besides the superior scalability and audio quality. Therefore the customer can focus on its core business while RTX Hong Kong Ltd. delivers a complete IP DECT solution, comprising state-of-the-art hardware and software.

KEY FEATURES
200 users (200 handsets registered) Scalable from 1 to 40 bases, wth seamless handover 10 narrow band audio channels per base 4 CAT-iq wideband audio channels per base G.726, G.711 and optional G.729 narrow band codec G.722 wideband codec

SYSTEM FEATURES
Wideband Voice (HDSP) Basic and Extended 12 Slot radio with up to 10 voice channels active Worldwide Radio power levels / frequency bands Scalable system from 1 to 40 bases in same network 200 users (200 handsets registered) Power over Ethernet Over the Air synchronization Support software download to wireless terminals LED status indication Seamless handover Repeater support

HANDSET FEATURES
Wideband Audio (G.722) 2'' TFT display with graphical user interface 176 x 220 pixel 262K color Well-proven graphical MMI with wallpapers Polyphonic ringtones Phonebook: 200 central and 100 local entries GAP and CAT-iq compliant Headset connector (3.5mm) SW upgrade over-the-air Wideband two-way speaker phone mode Vibrator

AUDIO
10 audio channels using G.726 / G711 codec 10 audio channels using G.729 (optional DSP) 4 CAT-iq wideband audio channels using G.722 RFC3711 SRTP

BATTERY LIFE TIME
Talk time: >18 hours Standby: >200 hours

DECT
Frequency bands coverage: DECT, EU/AU/NZ, US/CA, TW & LATAM Four power levels (14, 17, 20 and 24 dBm) Seamless handover using Connection Handover Wideband Voice (HDSP) Basic Interoperability, Phase I (CAT-iq 1.0) Authentication / Encryption of base and handset
 
ANTENNAS
2 internal omni-directional antennas Range: Indoor: 50m and Outdoor: 300m
 
ADDITIONAL FEATURES
Repeaters supported Fast antenna diversity switching Synchronization via air interface
 
SYSTEM
200 users (200 handsets registered) 40 bases can be connected into one PBX system
 
NETWORK
TFTP, HTTP, HTTPS for remote configuration and firmware download VLAN DHCP options 66 and custom Embedded web server for easy configuration
 
POWER SUPPLY
Power over Ethernet (PoE): IEEE 802.3af Class 2 Peak power 3.84 to 6.49W
 
ETHERNET
Connector: RJ 45 Interface to IP network: 10/100 BASE-T IEEE802.3 IPv6 support IPSec
 
MECHANICS
Housing: IP20 imensions: 227 x 279 x 39mm (HxWxD) Temperature Range: - 5˚ to + 55˚

OTHER
LED status indication Firmware update
Specifications
LCD

Yes

Features

As above

Programmable Buttons

Phonebook for up to 100 local plus system names and numbers

Caller ID Display (CLI)

Yes

Connectivity

POE/Ethernet SiP/VOiP Port
This product requires a spare PBX port to operate and possibly licencing, if you are unsure please check with us. info@voicepro.co.nz
Stock:

In Stock

Model:

Verse IP Dect Handset

Weight:

1.00kg

SKU:

Verse IP Dect Handset

VOICEPRO