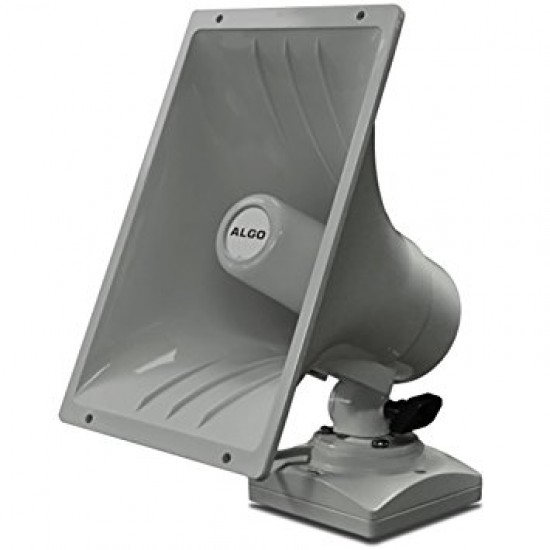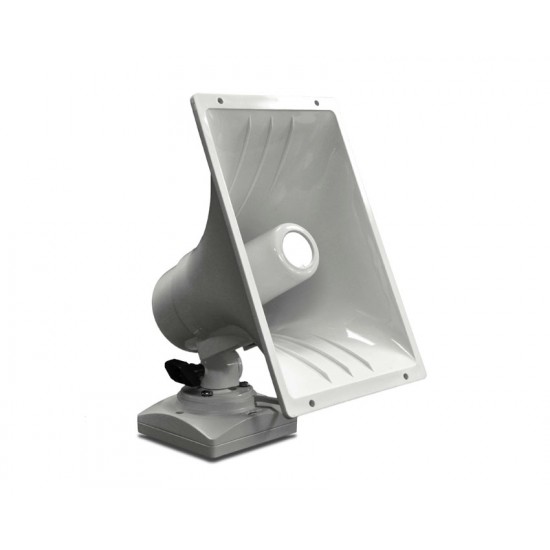 New Hot


ALGO 8186 WIDEBAND IP VOICE PAGING, LOUD RINGING & EMERGENCY ALERTING POE HORN SPEAKER – OUTDOOR RATED
The 8186 is a weatherproof SIP compliant IP horn / loudspeaker for voice paging, loud ringing, and emergency / safety / security notification and alerting. The speaker is PoE and does not require an additional amplifier. Common application environments include: warehouse, factory (e.g., OSHA), production floor (e.g. food and beverage processing), utility plant, machine shop, garage, parking lot/outdoor yard, school playground and gymnasium, farm, bus or train terminal, etc.
VIDEO: 8186 SIP Horn Speaker Feature Overview
Wideband G.722 codec (HD voice) support in the speaker provides optimum speech clarity and intelligibility. Voice paging and emergency announcements can be easier to understand with wideband, particularly in a noisy environment. The wideband capability of the horn speaker improves STI-PA intelligibility scores, which is important in meeting NFPA 72 requirements and the NEMA SB-40 2010 standard for emergency communication in education.
The 8186 speaker registers as a third party SIP endpoint with all leading premise or hosted UC providers. For multiple speaker deployments, additional devices do not require a SIP license. A single registered speaker can be configured to multicast to any number and mix of additional Algo speakers, strobes and/or paging adapters as required, providing cost effective scalability using a minimum of network traffic. For multicast page applications, zoned paging is supported as a SIP extension or as a keypress selectable zone.
In a Polycom VVX environment the 8186 speaker may be configured to join a Polycom Group Page for coverage in common areas or for sound reinforcement. No SIP registration is necessary.
An integrated microphone in the horn speaker enables talkback. The microphone also has the capability to listen for ambient noise and automatically increase page volume when necessary. This feature enables a consistent ratio of page to ambient noise level without being unnecessarily loud.
The 8186 SIP Horn Speaker is weatherproof and suitable for both indoor and outdoor locations when properly installed. For ease and simplicity, the speaker can announce its static or DHCP IP address so access to an intuitive web interface makes configuring the device straight forward. Additionally, the speaker supports auto-provisioning for minimal touch configuration.
EMERGENCY NOTIFICATION ALERTING
An auxiliary input allows an optional wall button (e.g., 1202 Call Button as shown) or external switch to initiate a SIP call or play a WAV file stored in the speaker's memory for notification alerting.
A WAV file may also be played by dialing the speaker's Ring extension, configured for ring/announcement activation only. Up to 10 Ring extensions are available to register on a single speaker (or 8188, 8189, 8301) for applications requiring different types of emergency notification alerting (e.g., lockdown, evacuation, etc.). A Call To Cancel feature can be configured in the 8186 to allow emergency alerting to play continuously for the duration of the event, until a designated extension registered to the speaker is called to stop the alert. Any combination and number of Algo IP endpoints can receive a multicast for such emergency alerting.
BENEFITS
Superb audio clarity and intelligibility
Network managed and supervised SIP and multicast endpoint
PoE (802.3af) for plug and play network connectivity – no additional amplifier needed
Eliminates narrowband FXS port or ATA
Multicast to scale from one to many speakers
Multifunctional speaker for voice paging, loud ringing, emergency notification alerting and bell scheduling applications
Compatible with all varieties of Algo speakers, paging adapters and strobes for more comprehensive alerting solution requirements
Suitable for outdoor and wet environments when properly installed with included mounting gaskets
Three axis rotation for widest range of vertical and horizontal adjustments – wall or ceiling mount
FEATURES
Wideband G.722 codec support for HD Voice
Multicast receive or broadcast capability
Mix with any number and model of Algo speakers, strobes and/or paging adapters using multicast (e.g. 8128, 8180, 8186, 8188, 8189, 8301, 8373) for a complete voice paging system
Syn-Apps SA-Announce
SIP compatibility with all leading UC vendors including: Avaya, Broadsoft, Cisco, Digium/Asterisk, Mitel, Metaswitch, NEC, and Polycom to name a few
Configurable through web interface
Auto-provisioning (i.e., TFTP, FTP, HTTP)
SNMP supervision
Internal memory of 1GB for uploaded WAV files or recorded messages
Multiple SIP registrations for Ring (10) and Page (50) extensions
Programmable relay (dry contact) output
Programmable relay (dry contact) input for illuminated and supervised wall button
UL/CSA, FCC, CE
Dimensions: 11.8″ x 6.6″ x 10.2″ (30cm x 16.8cm x 25.8cm)
APPLICATIONS
IP voice paging, in or outdoors, for a warehouse, factory, school gymnasium or playground, car lot, or campus environment, etc.
IP loud ringer for high noise environments or where employees are wearing hearing protection (e.g., machine shop, garage, manufacturing plant, utility, farm, etc.)
Multicast wide area emergency, safety and security notification alerts (e.g., lockdown, evacuation, reverse evacuation, medical emergency, safety alert, etc.)
OSHA compliance
Scheduled or automated announcements. Using the Algo 8301 to multicast, announcements/tones can be played over any model of Algo IP speaker. For example, school (i.e., class changes, recess, etc.) or workplace shift changes, breaks, etc.
Combine with all variety of Algo visual and audible IP endpoints to create more comprehensive notification alerting solutions (e.g. 8128, 8180, 8186, 8188, 8189, 8301, 8373)
Stock:

In Stock

Model:

ALGO 8186

Weight:

1.00kg

ALGO